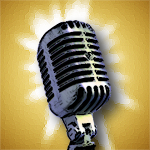 The Roundtable Podcast is a writer's podcast.
Now, there are a LOT of outstanding writer's podcasts out there.  Heck, we at RTP listen to a bunch of them and you'll find links to many more here on the site.
We're going to focus on a very specific aspect of the writing process… the ideas.  How do you take a rough jumble of inspirations and transform them into a workable, writable story?  How do you make your characters engaging and authentic and your plot lines snap with energy and excitement?
And we're going to do it right before your ears.
Each week, we invite writers to come onto the show and present a story idea they've come up with.  Then the writer and a panel of hosts – including published authors, editors, publishers, and other literati – get to work asking the tough questions about character arcs, plot pacing, raising the stakes and delivering the literary goods.  It's a no-holds-barred dialog that turns vague ideas into literary gold (or at least silver).
I can't wait to get started on this.  It's gonna be a blast!