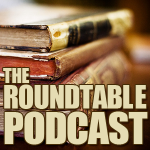 I know… "Zero-Point-Five"?
But SO much has happened since we started this project and Brion and I wanted to update everyone on our progress and some of the cool things we've discovered, both about the podcast and ourselves.
Roundtable Podcast: Episode Zero-Point-Five
[warning: contains mature language]
Podcast: Download (Duration: 29:12 — 26.7MB)
Episode Content
Below are the time codes for the topics discussed in this episode
01:40 – Legal stuff
02:40 – Quotes from the copyright website
03:50 – Cautions to potential guest writers
05:15 – Warning to those who would steal a writer's idea
06:17 – Our Guest Host line up (so far)
07:18 – I mispronounce Gail Carriger's last name
08:47 – "The Nathan Lowell Story"
13:38 – Some discoveries
13:55 – I mispronounce Gail Carriger's name AGAIN!
15:29 – Props to the Dead Robots' Society (spelled correctly, Justin)
16:10 – I confess to going off on Pip Ballantine
16:56 – Dan Sawyer's formidable BS
18:35 – To our Guest Writers – The Process

20:18 – Pre-show guest writer Skype call
23:43 – A call to the Aspiring Writers out there
26:44 – To potential Guest Hosts
27:23 – Wrap-up
Hey! You can check it out on iTunes, too!