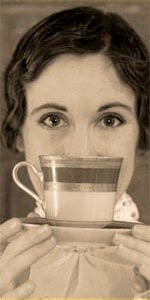 Showcase Episode: 20 Minutes with Gail Carriger
Workshop Episode: Workshop Episode 3
Website/Blog: http://www.gailcarriger.com
New York Times Bestselling author Gail Carriger writes to cope with being raised in obscurity by an expatriate Brit and an incurable curmudgeon. She escaped small town life and inadvertently acquired several degrees in Higher Learning. Ms. Carriger then traveled the historic cities of Europe, subsisting entirely on biscuits secreted in her handbag. She resides in the Colonies, surrounded by fantastic shoes, where she insists on tea imported from London.
The Parasol Protectorate books are: Soulless, Changeless, Blameless, Heartless, and Timeless (March 2012). Soulless won the ALA's Alex Award. A manga version will release March 2012. She is currently writing young adult books set in the same universe ~ the Finishing School series (Feb. 2013). Soon she will begin a new adult series, The Parasol Protectorate Abroad (Fall 2013).
Timeless Book Tour
Gail's latest work in the Parasol Protectorate, Timeless, has just been released.  You can catch her at these events:
Timeless book tour . . .
Wednesday, Feb. 29,7 PM Powell's Books at Cedar Hills Crossing (Beaverton, OR)
Thursday, March 1, 7 PM: Mysterious Galaxy (San Diego, CA)
Friday, March 2, 6:30 PM: Murder by the Book (Houston, TX)
Saturday, March 3, 7 PM: Book People (Austin, TX)
London! Parasol Protectorate book tour, April 10 ~ 15, 2012. More details to come.
The World Steam Expo (Dearborn, MI) May 25-28.
ComicCon in (San Diego, CA) July 12-15. Gail's program listing.
DragonCon (Atlanta, GA) August 30-September 3.
Gail's Works…

Soulless was nominated for Compton Crook and Locus awards, and won an ALA Alex Award.
Soulless manga releases in print March 1,2012 in the USA and the UK.
The audiobook made Audible's Best of 2010 list and is a Top 20 Sleeper Hit.
Listen to a full cast sample podcast of the first chapter of Soulless! (NOT the audiobook)

New York Times Bestseller Changeless is available as an audiobook on the Recorded Books website and from Audible.
The manga version of Changeless (called Soulless Vol. 2) is due out Nov 2012.

New York Times Bestseller Blameless is available as an audiobook from Audible.
Omnibus hard back of first three volumes avaiable through SF Book Club. Second one due out next March.
The manga version of Blameless (called Soulless Vol. 3) is due out June 2013.

New York Times Bestseller Heartless is available as an from Audible.
Changeless, Blameless, and Heartless were also Locus Bestsellers.

Timeless comes out March 1, 2012!

My Sister's Song is a short story, Gail's first professional sale. You can buy it for $0.99 in electronic form for the Nook, Kindle, or in any other format (except print). Marine Biology is one of Gail's recent short stories.Available in electronic from Amazon, Barnes & Noble, and Smashwords.