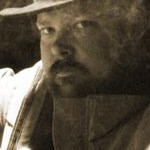 Brion and I are delighted to have Dan Sawyer as our premiere guest on this Literary Alchemist Showcase.  The 20 minutes went by far too quickly, but we covered some serious ground… enjoy! (And don't miss Dan's Workshop Episode)
Showcase Episode: 20 Minutes with J. Daniel Sawyer
[warning: contains mature language]
Podcast: Download (Duration: 29:15 — 26.8MB)
Listen to this episode on iTunes
Episode Breakdown…
01:50 Character Development and Dialog
02:54 Stealing from people I know
03:37 Pushing the Bizarre
04:31 Finding the baseline character
06:00 Flipping the archetype
08:39 Is this character working?
09:37 Falling in love with your characters
10:06 Getting past the cartoon
11:57 How do you steal from other people?
14:48 Planning or plunging?
15:47 Beta readers
17:37 No beta suggestions, please
19:16 Not a fan of writers' groups
20:41 Are you a genre writer?
23:22 Off on Literary Fiction
24:51 Do you write for an audience or do you write for yourself?
27:21 Outro