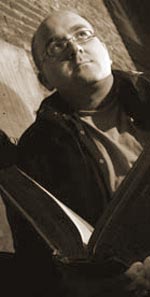 Showcase Episode: 20 Minutes with Alasdair Stuart
Workshop Episode: Workshop Episode 5
Website/Blog: www.alasdairstuart.com
I grew up on the Isle of Man, a small rock in the middle of the Irish Sea whose main exports are fish, scrap iron and generations of children desperate to escape, and yet, strangely drawn back a few years later.
I haven't been yet, but there's still time I suspect.
In the meantime I work for magazines like Neo, How It Works and Comic Heroes as a writer and reviewer, something which enables my geeky little former comic store manager's heart no end. I also write gaming material, most notably for the Doctor Who roleplaying game where the full length adventure in the main rulebook, 'Arrowdown' appeared. I'm doing more of that shortly too.
I also blog for SFX.co.uk, edit Hub magazine and am in the process of working on losing a lot of weight. I'm two weeks into training in Muay Thai kickboxing and so far I'm not Batman but, give me a couple of months and Gotham will be safe…
Works of note…
Hub Magazine-A weekly genre fiction free PDF. Relaunching soon.
www.hubfiction.com
Pseudopod-The weekly horror podcast from Escape Artists and my second home.
www.pseudopod.org
Cast of Wonders-The YA podcast that's run by two good friends of mine and frequently uses either my girlfriend or I as readers.
www.castofwonders.org
SFX-The homepage for England's premier science fiction magazine. I blog for them and also run the Blogbusters mass discussion feature.
www.sfx.co.uk
Favorites
Books
Catch 22 ('Give me eat! GIVE ALL THESE MEN EAT!' makes me laugh every time)
Archer's Goon
The Hitch Hiker's Guide to the Galaxy
The Lost Fleet Series
The Bridge
Comics/Graphic Novels
I have a huge love for the James Robinson Starman run. There are so many lovely moments in there but a point towards the end, with one character shaking another's hand? Just has me in tears every time.
Warren Ellis' work has been and continues to be a huge influence on me, in particular the science fiction journalism series Transmetropolitan, the disaster fiction series Global Frequency and the utterly brilliant Orbiter, a graphic novel that is also a love letter to the space race.
I'm enjoying Ed Brubaker's Fatale at the moment and I'm also on a major 2000AD reprint kick. First up are a couple of the Anderson, Psi Division collected editions followed by Ian Edigninton's magnificently horrible Stone Island and Al Ewing and Henry Flint's magnificently strange Zombo.
Films
The Abyss and The Hunt For Red October were huge early influences. I'm also very fond of Rock'n'Rolla, the Guy Ritchie Sherlock Holmes movies, Brick, Inceoption, the JJ Abrams' Mission: Impossible movies, Sneakers, Outlander and dozens more, including Pontypool. ESPECIALLY Pontypool. Anyone who hasn't seen it, really should. It's the story of a local radio station in Canada on the day a virus that's spread through language burns through the town. Fiercely smart, very ambitious, horrific, weirdly sweet and one of my all time favorite movies.
TV
Homicide: Life on the Street and Midnight Caller both introduced me to the idea of good people with flawed lives doing bad things for good reasons and I'll love them both forever for that.
I of course adore Doctor Who to tiny, tiny pieces and that extends to all British science fiction. One off's like The Stone Tape and the utterly incomprehensible Artemis '81, series like The Nightmare Man and Edge of Darkness all have places in my heart. Oh and I'd encourage anyone who has seen the Mel Gibson Edge of Darkness to track down the original BBC series. It's an utterly, utterly extraordinary piece of drama.
And of course, Community. The world's oddest, most willfully geeky sitcom may well be heading for it's last ride but it's so blisteringly funny and sweet and weird that I find the R2 DVD release of season 1 rarely out of arm's reach. SIX SEASONS AND A MOVIE!
Music
Far too many to go into but the stuff that has my attention at the moment include:
Matt and Kim-Their song 'Good ol' Fashioned Nightmare' is prominently featured in early Community episodes and stuck in my head as a result.
Rizzle Kicks-Stereo Typical, their debut album, is a gloriously English piece of rap that I find myself coming back to over and over. 'Down with the Trumpets' is particularly great.
Rachel Sermanni-Small, precise dark-hearted acoustic guitar songs. Imagine KT Tunstall (Also brilliant, by the way) but noticeably darker and more delicately arranged.
Quote
"It's not the end of the world, it's just the end of the day."– Grant Mazzy, as played by Stephen McHattie in Pontypool