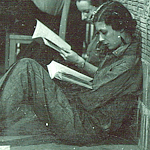 "There is no one better equipped to build rich authentic characters than someone who has actually "lived" (for a few hours) as someone else."
The best characters in our stories are living breathing people.  They are unique individuals that speak and act authentically as the tale unfolds around and through them.  You can't learn how to write characters like that from a book… it takes years of practice and study to write honest characters.
Or you can become an actor… because we totally have it going on in the "character" department. Seriously, there is no one better equipped to build rich authentic characters than someone who has actually "lived" (for a few hours) as someone else. In order to appear authentic on stage, an actor has to be able to respond to cues and events AS THEIR CHARACTER.  If they don't, the performance is flat and uninteresting.
Writers are striving for that same authenticity… and suffer the same consequences if they fall short of the mark.
So how do actors do it?
Research
The best actors (in my experience) conduct exhaustive research into the text of the script to understand every nuance of the character they're going to portray.  There may be additional research into time periods and places (if relevant).  Then they start asking questions, delving into motivations, trying to nail down exactly why the character uses the words they do in each given situation.
Writers actually have less to work with because they're CREATING the script, but the same principals apply.  In any given scene – in a play or a book – you have characters with conflicting objectives.  That friction is the mojo of the scene and how it plays out is completely dependent on the characters involved.  Are they aggressive, sly, meek, stubborn… all these qualities are determined by doing some backstory/research on the character (checkout this Character Development post for a useful Character Backstory worksheet).
Madness
Research is only the start and here is where the actor has one up on the writer. The next step is for the actor to then BELIEVE the results of that research in their heart, taking on the "truth" of that character while they're on stage.  This is exhaustive and takes weeks of rehearsal as the actor works scenes with other cast members, trying not just to UNDERSTAND the emotions and the words used to express them, but to actually FEEL those emotions as much as possible.
Sounds insane, doesn't it?  Welcome to Life in the Theater.  Actors strive to respond to lines delivered by their fellow actors as though it's the very first time they heard it.  And respond from the heart AS THEIR CHARACTER, not as they think their character would respond (a vital distinction).
That authenticity of interaction is what writers seek to capture in their character dialog and development.  And how does the successful writer pull it off?  The same way the actor does…
Listen
The true measure of an actor is not when he's speaking, but when he's saying nothing at all.  When on stage, the actor is actively, strenuously, vigorously listening to what's being offered up by the rest of the cast.  It's an organic ensemble where the energy from one actor is received and transmuted by another to be re-invested into the scene with the next line.
Everyone is listening openly, receiving input and processing it as their character, allowing the character's emotional configuration and ancestry define their next move.  The best actors have no idea what will happen next.
Writers can employ this same technique, but it's not something that comes naturally.  Preconceptions and our own personal archetypes can get in the way of spontaneity and honesty in the writing process.
But the next time you're out and about – in a coffee shop or restaurant or an airport (the best) – stop and really pay attention to the interactions going on around you.  Watch and listen to words and body language and how it ultimately defines the person using them.  Watch without judgment or preconception and explore how what we DO articulates who we ARE.
THEN come up with a back story for the people you've been watching.  Base it as exclusively as possible on what you've seen and heard during your observation.
Or… Just Become an Actor
If you have even the slightest dramatic impulse (and you must to want to be a writer) then you might really enjoy an acting class.  Check your local community college or civic organization, even the local library… you should be able to find something in your area that'll let you at least sample the delights of performing.
If not, then why not try a little improvisational theater in your living room?  Find a friend (or two) and set up the scene with them.  Describe the characters, what has gone on before, what each character wants and then just start play-acting the scene.  It'll feel a little weird and stilted if you haven't done it before, but if you stick it out and really commit to the character, I can guarantee something will pop up you hadn't considered before.
Actors and Writers Want the Same Thing
A lot of people think the performances they see on stage are "fake", a shallow pantomime of life.  Speaking from the other side of the proscenium arch (look it up), I can tell you that a lot us are striving to recreate truth up there.
Which is precisely what writers are trying to do with their stories.  Writers and actors have a lot in common… so exploring the skills of our counterparts is an investment in our craft and the creations we shape with it.
What do YOU do to ensure your characters have depth and authenticity?