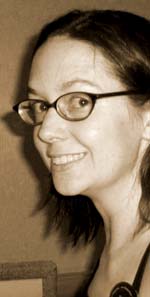 Showcase: 20 Minutes with Mur Lafferty
Workshop: Workshop Episode 9 (Guest Host: Mur Lafferty)
Website/Blog: http://www.murlafferty.com
Other Sites:
From Mur's Website…
"I am a writer, podcast producer, gamer, geek, and martial artist. I also make a mean martini. My books include Playing For Keeps, Nanovor: Hacked!, Marco and the Red Granny, and The Afterlife Series. My podcasts are many, currently I'm the editor of Escape Pod magazine, the host of I Should Be Writing, and the host of the Angry Robot Books Podcast. I write a column for the gaming magazine Knights of the Dinner table, and in the past I've written for Games Quarterly, Suicide Girls, and Anime Insider.
Personally, I run, practice kung fu (Northern Shaolin five animals style), play Skyrim, hang out with my fabulous geeky husband and our nine year old daughter.
I'm represented in the US by Nicole Tourtelot of ICM and internationally by the fine folks at Curtis Brown."
From Wikipedia…
Mur Lafferty (born July 25, 1973) is an American podcaster and writer based in Durham, North Carolina.[1] She attended the University of North Carolina at Chapel Hill and graduated with a degree in English. She is the editor and host of Escape Pod since 2010, when she took over from Steve Eley. She is also the host and creator of the podcasts Geek Fu Action Grip (on hiatus) and I Should Be Writing. She was, until July 2007, the host and co-editor of Pseudopod.
Lafferty has also worked as a freelance writer. Her early career began with her writing for White Wolf and other role playing game companies, and she has expanded to writing about games for such publications as Scrye, Knights of the Dinner Table, Anime Insider, Games Quarterly, and The Escapist. Her popular podcast novel "Playing For Keeps" was published by Swarm Press on August 25, 2008.
She has also written essays for the online magazine Grumble, many of which have ended up on Geek Fu Action Grip. She has had fiction published in Hub.