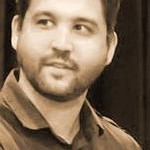 Bryan Lincoln represents a remarkable synthesis of science and creative mojo, equally at ease in a bioengineering lab, behind (or in front of) the mic, or at the keyboard.  The scope of his experiences is vast indeed (though he's likely best known for his work with The Full-Cast Podcast, his resume includes vocal performance, audio production, writing a novel, and of course… science) and we delve into that pool of knowledge in this Showcase episode, exploring the distinctions between audiobooks, full-cast presentations, and audio drama, as well as discussing the parallels of rational science and irrational art.  So sit back, grab a mass spectrometer, and enjoy this enlightening 20 minutes (and don't miss Bryan's Workshop Episode)!
PROMO: View From Valhalla (http://www.viewfromvalhalla.com/)
Showcase Episode: 20 Minutes with Bryan Lincoln
[caution: mature language – listener discretion is advised]
Podcast: Download (Duration: 29:56 — 27.4MB)
Listen to this episode on iTunes
Episode Breakdown
01:40 – Bryan's many accomplishments
03:34 – …and one correction
03:50 – Difference between A full-cast script and an audio book
04:30 – Narration versus each character being performed
05:25 – Greater range of character expression
06:15 – Structural differences
06:55 – Enhancing with sound FX
07:40 – How much does POV impact a full-cast or audio drama
07:55 – First person POV vs third person
08:40 – Advice for those just starting out
09:25 – Audio production is an artform
09:50 – Started out volunteering for Dunesteef
10:28 – Alicia Goranson "The Mask of Inanna"
10:45 – Time commitment: 2 hours of work per minute of audio
11:05 – Should Writers produce their own work or find a producer?
11:45 – Gotta give actors some creative license
12:15 – Make sure other producer is better than you are
13:00 – PROMO: View From Valhalla
13:55 – How do Science and the Creative Process dovetail for you?
14:55 – Science comes from hard work and creativity
15:25 – If someone's done it before, it's not interesting
16:00 – The role of the Inventor
16:48 – Science is a long slow process… like writing
17:30 – Inspired by Mur Lafferty's "I Should Be Writing"
17:58 – "Full-Cast Podcast" is a how-to and kinda timeless
19:18 – Technology changed everything
20:26 – Where can writers go to get technical research?
20:54 – Don't be afraid to approach scientists and grad students
22:10 – Professors are busier
22:28 – Not really any on-line resources (but maybe podcasts)
23:00 – Great podcast called "The Brain Science Podcast" for example
23:28 – Social networks (Twitter, etc)
24:40 – Top audio dramas or full-cast
24:50 – Distinction between the two
Audio Drama:
Full-Cast: