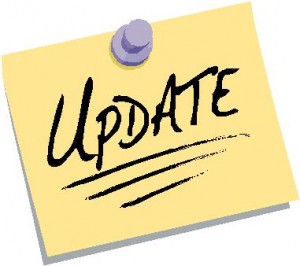 Throughout the course of this podcast, Dave and I have been like a couple of escaped mental patients, stalking host after glorious host, strapping them down and forcing them to participate in an experiment that neither one of us believed would be as monumental, thrilling, or just plain fun as this ride has been.
Add to that our guest writers, who came aboard (often tentatively and for good reason) with the skeleton of a story draped across their outstretched arms, hoping, believing, and trusting us to conjure flesh to bone, blood to muscle, and breathe to life what would inevitably lead us all to that one thing we strive to achieve every week on our show: Literary Gold! 
But what happens after the microphones are unplugged and our guests, hosts and writers alike, fall into the dead air silence at the end of the episode?  Where do they go?  What do they do?  What awesomeness prevails beyond the Roundtable Podcast in the darkened writers' studios and closet offices?
Well, now that I've mixed about every metaphor known to man, let's find out.  It truly is an honor to have the time that we've had with the amazing people that have agreed to give up several hours of their busy lives to chew the fat with Dave and I, so here's a quick update on some of the great people we've shared the mic with and a sampling of the awesomeness they're radiating.
J. Daniel Sawyer  Seriously, does this guy ever sleep?
Throwing Lead: A Writer's Guide to Firearms (and the People Who Use Them) by J. Daniel Sawyer, Mary Mason and Kitty Nic'Iaian, saw its release on March 4th.  A hilarious and equally informative guide to guns and things that boom, "this unique tour of history, technology, and cultural development of firearms, examines how they've shaped out language and idiom, influenced manufacturing technology, and created warrior cultures in different professions."  This is a MUST HAVE for anyone who finds themselves browsing the gun magazine rack because they've never held one before and are knee deep in the writing of a novel that is filled to the gills with them.  Go buy this!
And in the short fiction category, "The Open Source Woman" will be published in the e-book and print editions of the second volume of the Mirror Shards Anthology in August.  The theme of the anthology revolves around the "technology of augmented reality in its many forms."
For more information on these and the MANY other  "In Production" ventures, visit Dan's website.
Nathan Lowell  has been a busy guy…but really, did we expect any less?
Justin Macumber  Yes, it's true…we are his illegitimate spawn.
A Huge Congratulations for the release of Haywire.  Super-soldiers, Space Pirates, and Viruses!  Oh my!  Haywire paperback edition was released March 13th!  Go get it.  Now!  Right now!  Oh, and it's also in ebook format.
Justin's short story "In The Deep Dark" has won the Scare E. Horror Contest.  Here's what Edward Lorn, host of the contest had to say:  "Justin's piece terrified me to no end, both while reading, and long after the final page turned."  Check out his story and Edward Lorn's blog at http://edwardlorn.wordpress.com/2012/05/15/scare-e-winner/  Way to go, to our illegitimate father!!!
Gail Carson Levine  On a personal note, Gail is my mother's favorite new find!  Yes, my mother is a listener.
Gail's most recent release, Forgive Me, I Meant to Do It: False Apology Poems became available on March 13th in hardback, and is already on several summer children's reading lists.  It is a collection of original poems by Gail from the tricksters' points of view.  A must read for any of you who sympathize with the villains who do all the wrong things for all the right reasons.  At least, as far as they're concerned!
Gail Carriger  A paragon with a parasol of cross genre brilliance!
Gail has been extensively traveling Europe and attending Cons, delivering readings, lectures on the history of gothic steampunk fiction, and holding high tea.  All of which is well documented on her website, here.
As a special treat, here is a video of Gail reading an excerpt from her novel Soulless in London on April 9th.  Speculation as to what the strange orange/red decoration on the wall behind her might be, is open for debate…
And our brave and talented guest writers…
Jacci Turner has just released The Bar: Second Book of the Birthright Series!!!  The Bar and the first book in the series, The Cage, are both available on Amazon, Barnes&Noble, and smashwords. Congratulations, Jacci!  The Birthright is now an official series and that is just freaking AWESOME!   (By the way, The Cage is currently – and for a limited time – priced at only $0.99)
Tristan Gregory has released his two newest stories in The Wandering Tale Series: "The Three Fingers of Death,"(February 27, 2012) and "The Giant of the Tidesmouth" (April 15, 2012).  His first in the series, "The Swordsman of Carn Nebeth" has received rave reviews and these latest installments are sure to satisfy that fantasy sweet tooth.
So many amazing accomplishments by our Hosts and Writers, and this is merely the tip of the iceberg, and not nearly an exhaustive list!  More updates to come, so keep checking back, dear listeners…and readers…
But for now, it's time for the rest of us to get back to it, so…
Go Write!