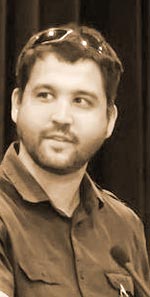 Showcase Episode: 20 Minutes with Bryan Lincoln
Workshop Episode: Workshop Episode 10 (Guest Host: Bryan Lincoln)
Website/Blog: hhttp://www.fullcastpodcast.com
Facebook Page: http://www.facebook.com/bryan.lincoln
Bryan is a physicist with a passion for audio and storytelling. A self starter in audio production, he produces regularly for The Dunesteef Audio Fiction Magazine and HG World and has hosted several podcasts, including The Fullcast Podcast (an educational podcast about full cast audiobook production) and My Epic Heals (a gaming podcast about healing in The World of Warcraft).
Bryan is a producer first and a storyteller second, meaning he brings other people's work to life in addition to his own. His first novel, "Malcontent", is complete and under production as a full cast audiobook.
In the science realm, Bryan is something of an inventor, with past areas of research ranging from nonlinear dynamics to laser trapping to cellular biomechanics to biomedical device design.
Currently living in New England, Bryan has resided in eight cities across three countries over the course of his first 34 years.
Favorites include Tad Williams and Steven Erikson