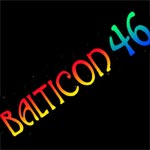 This year I had the privilege and pleasure of attending Balticon 46. I've been to game and fantasy conventions before, but never Balticon, and I had heard it was THE con to attend for podcasters and new media creators and fans alike.
Wow.  Yeah.  It was amazing… fabulous panel discussions, great events, remarkable guests… and you couldn't swing a dead cat without hitting an author, editor, publisher, or podcaster (I tried and, for the record, it wasn't a real cat and I apologize to John Mierau for any injuries sustained during the experiment).  I learned so much and had the pleasure of finally meeting people who had existed only as voices in my iPad.  Just amazing.
Brion was unable to make the scene (with some excuse about continuing the education of our nation's youth or something) but I had to share the awesomeness with him.  So I walked around the convention asking these remarkable creators one question:
"Is talent something you're born with, or is it something you acquire?"
I recorded each response (and thank you to everyone who participated) and now I get to play them back to Brion. Of course, being the wind-bags that we are, we can't pass up the opportunity to wax philosophical about each one and it leads to some great discussion about creativity.
 What about you?
What's your take on the whole "talent" issue? Is it something you're born with?  Can it be developed or is it a finite thing? And (perhaps more importantly) how do YOU integrate that into your own life and creations?
[caution: mature language – listener discretion is advised]
Podcast: Download (Duration: 36:01 — 33.0MB)
Check out this  and all our episodes on iTunes…
In this episode: