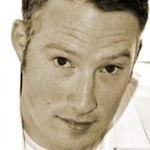 Seth Harwood is definitely an author, crafting hard-hitting crime fiction like the Jack Palms series and "Young Junius". But it becomes very clear early in this interview that he's much more than that.  He is a scholar, a teacher, and skilled storyteller who brings to bear not only an incisive and articulate mind to his craft, but also a passion that can only come from utter dedication to something you love. We're pleased and proud to offer this Showcase of our (too short) time with him, but don't stand too close… the fire's burning hot around here. (and make the scene at Seth's Workshop Episode!)
PROMO: The Dead Robots' Society Podcast
Showcase Episode: 20 Minutes with Seth Harwood
[caution: mature language – listener discretion is advised]
Podcast: Download (Duration: 27:22 — 25.1MB)
Listen to this episode on iTunes
Episode Breakdown
00:50 – Seth's Awesomeness
03:20 – How do you classify your writing? Noire? Pulp? Thriller?
03:30 – See myself as a Crime Fiction author
03:50 – Crime is the umbrella, under it is hard-boiled, noire, and pulp
04:00 – Podcasting is the new technology pulp
04:20 – How do you capture the gritty black and white feel of "noire" in print?
04:45 – You can argue it forever and I wonder if you CAN get that stuff on print
05:10 – We have to make it new more than try to capture those things
05:20 – I picture my stuff in color so it's hard to get those noire tones
05:25 – Look at Pulp Fiction or The Wire, it has the same vibe without the visual
05:45 – We want to bring in some of that world of the underbelly of society
06:05 – You draw attention to specific details in a scene… what is your strategy with that?
06:30 – The writer can do too much describing or not enough
07:05 – I endeavor to create a visual movie for my readers
07:15 – Through training and workshops, I feel like I've developed a sense of the sweet spot
between the work of the writer and the reader
07:35 – It's important for a writer to think about allowing the reader to do some of the creation
07:50 – Leave some space for the readers to do some of the creation
08:10 – It takes a while to find
08:25 – Show a lot of your work to other people
08:30 – Do you use beta readers?
08:35 – Back when I was doing workshops
08:40 – Now I have a better sense of that sweet spot
08:50 – How do you make the choice of tense and POV?
09:30 – Bigger issue for writers is to choose the right narrative strategy.
09:50 – Coming from a short story background I really liked present tense
10:00 – Learned a lot about how people read and experience novels
10:15 – Present tense feels like it moves faster (a lot of "s" sounds)
10:30 – Past tense has a lot more "d" sounds
10:40 – I think about my stuff verbally and audibly (even before started podcasting)
11:00 – The sound of present tense really worked for the Jack Palms series
11:10 – In "Young Junius" I used past tense
11:20 – Surprised at how strongly people reacted to the use of present tense
11:50 – The artifice of this being a "true story" is gone
12:25 – PROMO: Dead Robots' Society Podcast
14:10 – Trust comes in with hitting the right level of description and inspiring the movie image
in the reader's mind
14:30 – Let the readers fillin images from their own lives
14:45 – It makes it much more rich and emotional for the reader
15:00 – What are you bringing to the Crime Fiction genre and how do you foster that in your work?
15:20 – All writers are influenced by the previous creations in their genres
16:30 – I get excited about these serialized long-form television series
16:55 – That helps me lead into the podcasting of my fiction
17:05 – I try to blend the influences from my reading, viewing, and gaming into my work
18:15 – Every writer has core material that becomes hard wired as an influence
18:50 – Do you make a conscious choice to make your protagonists "broken"?
19:25 – Very much a conscious choice
19:35 – The aftermath is where a lot of the real emotion and humanity comes in
20:00 – When you're in a bad place, you realize what it is you need to do
20:25 – The really interesting place in life is when you come out of that
20:40 – That's where the decisions become much more difficult
21:55 – What are you working on now in your craft?
22:20 – I've been working on a novel that's pushing the boundaries of what I know
22:40 – Also trying out a new form, converting a novel into a teleplay
23:05 – It's a whole alternate way of writing