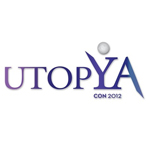 We learned about the remarkable UtopYA Con at the very last minute, but that didn't stop us from hustling ourselves over to this amazing event.  Dedicated to "female writers of paranormal fantasy & the readers who love them," UtopYA Con is a YA lovers paradise, fraught with wall-to-wall authors, fabulous panels and events, and an air of festive and impassioned creative mojo that you rarely see in a first-year event.
We talked to Janet Wallace (owner and prime mover-and-shaker at the Social Deviants marketing company) about the origins of UtopYA Con as well as her philosophy behind this 3-day extravaganza.
We also cornered several of the authors attending the con (as we are wont to do) and asked them exactly what it is that makes paranormal YA awesome. Not only are their answers enlightening, but Brion and I have several "ah HA!" moments about the power and relevance of the YA genre.
So what are you waiting for… hit that PLAY button! This stuff is gold, baby. 🙂
Podcast: Download (Duration: 56:00 — 51.3MB)
Check out this  and all our episodes on iTunes…
Special Thanks to EVERYONE who was so helpful at UtopYA Con, especially…
Janet Wallace for her gracious hospitality (and mad organizational skills), and
The authors who were so generous in sharing some of their busy con schedule with us…