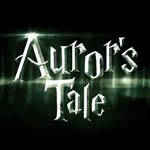 At the first-ever UtopYA Con, I had the amazing good fortune to sit down with some of the dynamic innovators who are building an astonishing media event… Auror's Tale.
If you haven't checked out the Auror's Tale teaser, yet, we've included in the post below. Check it out and you'll see why I was so excited. While it may technically be considered fan-fiction, this exciting cinematic event is a giant leap beyond mere devotion to J. K. Rowling's Harry Potter series. Auror's Tale represents a bold spirit that has seized many artists in the age of digital media… the desire to not just sustain or re-create what's already been done, but to expand the mythology, blazing a trail to explore exciting new expressions and perspectives of a beloved classic.
Joining me were Leo Kei Angelos, Cassandra Johnstone, Leanna Renee Hieber, and Christopher Lopez.  Each of them wear many hats in the production process, gladly sharing the diverse responsibilities that comprise a quality film production. And that's exactly what this is, friends… a quality production that will thrill and delight any fan of the Potter-verse.
Listen to our interview with the Auror's Tale folks:

Podcast: Download (Duration: 34:57 — 32.0MB)
Check out this  and all our episodes on iTunes…
More About "Auror's Tale":
 Watch for the first episode hitting YouTube this summer and, in the meantime…
… enjoy this amazing teaser: