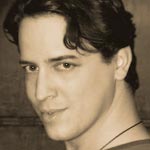 Andrew Mayne has pursued his interests (including professional stage magic and movie production) with tireless passion, achieving not only prestige but also mastery of a wide range of creative and technical endeavors.  He applies the wisdom and insight from those diverse creative pursuits to his passion for writing, giving him a unique perspective of the storytelling craft. There were several "oh wow" moments to be had for both Brion and I and I'm betting you'll find a few, too. Tune in and enjoy while Andrew shines a light into places you may not have considered about the writing craft. (and then continue the delight by checking out Andrew's Workshop Episode! )
PROMO: "Twixt Heaven and Hell" by Tristan Gregory
Showcase Episode: 20 Minutes with Andrew Mayne
[caution: mature language – listener discretion is advised]
Podcast: Download (Duration: 33:21 — 15.3MB)
Listen to this episode on iTunes
Episode Breakdown
00:45 – Andrew's Amazing Intro!
03:05 – Are we talking to you or one of your clones
03:15 – I am very fortunate to work with other very talented and capable people
03:25 – Find people smarter than you and partner with them
03:50 – Where in your background did you start writing
04:05 – I've written non-fiction for 15 years or so with How-to Magic book and articles
04:35 – Started writing fiction a little over a year ago
04:45 – What is it that writing lets you accomplish that your other endeavors don't?
05:05 – Whatever field you go into will have limitations
05:15 – Film is very collaborative, screen plays can be done by yourself
06:20 – With today's writing environment, there's nothing between you and your audience. You never have to mail a manuscript to New York.
06:35 – The only thing that matters is if someone likes your work.
06:50 – What drew you to genre fiction?
07:05 – I got into reading SciFi early on and was shaped by Heinlein and Asimov
07:25 – My first book was The Grendel Shadow and it was Steampunk. Then Public Enemy Zero which was a thriller
07:40 – I didn't want to get caught up in writing one genre as opposed to another
07:50 – Was the transition from magic to writing fiction was a natural one?
08:05 – Good magic is good storytelling, understanding conflicts, resolution, and setbacks
08:20 – Thrillers and mysteries have different similarities to magic conventions
08:50 – I write towards things I'm familiar with
09:10 – I write about things I want to know more about
09:50 – Do you find that you write to "someone" when you write?
10:45 – The first thing I do is pitch a story to my friends
11:05 – I wanna know there will be interest in the idea
11:20 – Occasionally I'll give a chapter to someone to look at
11:50 – I have in mind someone like myself, a little scientific with an eye for details
12:05 – Then I give it to Justin Robert Young, a friend with a good eye for detail and structure
12:25 – I seek the critique and not the praise
12:40 – Have you had a pitch that your friends panned?
12:45 – People are polite, sometimes our friends and family can't tell the difference
13:20 – You have to be able to distinguish faint praise from genuine praise
13:40 – If I get an "It's interesting" then I'll ask "What don't you understand to appreciate the brilliance of this work?"
14:00 – I've got entire books that just sit there, I've re-written books entirely
14:15 – It's easier to figure that out at an earlier phase
14:30 – "Twixt Heaven and Hell" by Tristan Gregory
16:10 – What is the difference between the stories you've put out and the ones sitting in your desk drawer?
16:30 – Sometimes you get to the end of a story and you ask "Did I tell the story I wanted to tell?"
16:50 – Sometimes I make some critical mistakes and you're better off starting over again
17:00 – It's hard to tell when it's right and when you're not
17:45 – Be careful of criticizing something that's popular.  You may not understand it.
18:40 – Any advice for people about how to handle presenting your work to a writing group?
19:25 – You gotta understand who you're turning it over to
19:40 – Sharing your work gives you perspectives that you don't have
20:35 – The danger in writer's groups is you're in a room with people who want to do what you do.
20:40 – You gonna get a response from writers, not consumers
21:20 – They're a great way to evolve how to receive praise from other writers
21:25 – Just like participating in competitions is a great way to learn how to win competitions
22:10 – They have value, but you gotta remember when it's no longer going to give you what you want
22:25 – Do you have a routine that makes you as productive as possible?
22:35 – I'm still trying to figure out my habits and what is necessary and what's just habit
23:25 – I do believe in having a clear idea of when something should be done
24:10 – I don't know if 20K words a day is necessarily a good thing
24:55 – There is something to the idea of stopping periodically
25:10 – I'm trying to figure out my pacing
25:30 – How to you evolve your character?
25:45 – I'd get to a point where I didn't know what to do next
26:35 – I do extensive outlining and I try to understand each character
26:50 – I try to figure out who's going to be interesting IN THIS STORY and where are they in their life
28:00 – The story ends up being defined by the people I'm going to put into it