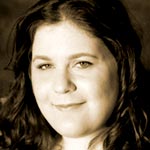 Rachel Swirksy – nominated for the 2012 Hugo Award for her novelette "Fields of Gold" and Vice President of the Science Fiction and Fantasy Writers of America – brings a wealth of insight and experience to this Showcase Episode. One of the (many) delights of this conversation is the unique perspective Rachel infuses it with… she understands her craft very precisely and articulates her insights with clarity and and honesty. We discuss the merits of short fiction, the hallmarks of writing with a clarity of voice, as well as exploring the qualities of the Clarion and Iowa Writer's Workshops… and more! (and make sure you check out Rachel's Workshop Episode!)
PROMO: The Dead Robots' Society Podcast
Showcase Episode: 20 Minutes with Rachel Swirsky
[caution: mature language – listener discretion is advised]
Podcast: Download (Duration: 31:50 — 29.2MB)
Check out this and all our episodes on iTunes and on Stitcher Radio!
Episode Breakdown
00:50 – Rachel's fabulous intro
03:20 – What is the allure of short fiction for you?
04:30 – I'm incredibly obsessive about language (so I also write poetry)
04:45 – My revision style is very unproductive… I retype some works up to 16 times
05:30 – There's more tolerance in the short story market for being experimental
05:40 – I like the suddenness of short fiction, you can be really intense with it
06:20 – 16 revisions? What does each of those revisions do for the story?
06:40 – I do some structural reshuffling
06:45 – It becomes easier to deepen character expression and language, each pass reveals different layers
07:15 – it allows you to re-evaluate some of your word choices and sentence structures
07:55 – …and there's a bit of obsessiveness I could probably cut out
08:05 – Do you read your work aloud as a part of your editorial process?
08:20 – Usually, thought I used to do it a lot more
08:25 – It helps you catch awkward phrases
08:45 – I'm using it less… I've started being able to hear the voices as I write
10:00 – How do you find that line between trusting your audience versus feeling the need to explain and prove?
10:15 – That's not usually what I think about, it's more about speaking with authority
10:25 – Even in realistic stories, you need to establish a sense of confidence
10:55 – It's also clarity. When something doesn't feel realistic, it's often because the writer doesn't really understand what's going on.
11:30 – The first major step for me was making sure readers could understand my story… at all
11:50 – Workshops are really useful for that
12:10 – It's important to work with readers who aren't like "your" readers
13:10 – I developed the instinct I currently have by throwing my earlier stories at as many people as possible and asking "Does this make sense?"
13:30 – Also figuring out how to release information (Orson Scott Card said don't hold your cards to close to your chest)
15:00 – Promo: The Dead Robots' Society podcast
16:35 – Does your obsession with language trip you up in your initial drafts?
17:15 – Occasionally. Characters develop through language, so how a character talks is often the way the prose will come out
18:00 – Poetry gave me the skills to make things pretty AND concise
18:20 – With poetry, every word needs to be the right word, you use specific concrete words that connect to specific concrete concepts
19:15 – Playwriting is great for thinking about when you don't have the narrative tools
19:25 – I think working in different [formats] gives you immense power and tools to bring back
19:35 – What makes the Clarion Workshops and Iowa Writers Workshop so powerful?
20:15 – They're both terminal in their field
20:35 – Clarion seems so much more heightened, it's incredibly high pressure
21:05 – It forces you to step out of your normal life and step into this hot house environment
21:35 – Something like Clarion can really help writers get past any blocks and engage the creative thought processes more quickly
22:15 – Iowa is a two-year long program and a very different experience
23:45 – The caliber of writer was much higher… the prose people were creating was stunning
24:15 – It was a very different environment to see people who weren't worrying about publishing and thinking about art instead of readership.
25:00 – Who is the reader you're writing to?
25:10 – It's not always that specific and changes from story to story
25:40 – Another way to explain is if I write a story for a specific audience I won't take as much time developing information that they would already know.
26:20 – If I didn't feel like I was talking to someone, I probably wouldn't write.
27:00 – Why do so many writers have an acting background?
27:05 – We like attention?
27:10 – The skills are different creativities but they're linked… there's a way of talking about emotional expression and channeling that into communicating with people.