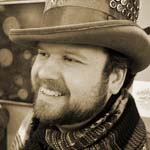 Jared Axelrod is the quintessential creator. Costuming, theater, art, literature, podcasting… each artistic challenge he sets before himself is met with passion, dedication, and an instinct for grand  scope and epic presentation (and his latest triumph, "The Battle of Blood and Ink", is a powerful testament to that craft). We were delighted to be able to enjoy 20(ish) minutes with this dynamic personality, discussing his own strengths as a creator, the ways and means of prioritizing creative endeavors, his own transition from uncertainty to boldness, and more! Your week's supply of Writerly Goodness awaits! (and come back for Jared's Workshop Episode!)
PROMO: Save "City of Heroes" http://www.savecoh.com

Showcase Episode: 20 Minutes with Jared Axelrod
[caution: mature language – listener discretion is advised]
Podcast: Download (Duration: 36:56 — 25.4MB)
Check out this and all our episodes on iTunes and on Stitcher Radio!
Episode Breakdown
00:50 – Jared's Astonishing Intro
06:15 – What is your greatest asset as a writer?
06:35 – I'm very single-minded… I don't let things go and work on projects until they're finished
07:05 – It's that dogged determination that I've developed and learned and now treasure
07:20 – There's only two things you need to do to succeed in a creative project: start and finish
08:25 – It's so easy to see something as not perfect and not ready… and then it never gets done
09:35 – You don't have to create a masterpiece, you just have to tell your story
10:15 – It's an impossible goal to be perfect on your first try
10:35 – Telling a story is a much easier goal than telling a perfect story
10:45 – Charles Vess said, "Everytime I fisih something, this is going to be the thing that changes everything"… and it never is
11:30 – If I get it done, then it's a work of art and that's all it has to be
12:55 – How do you prioritize the many projects you want to do?
13:40 – If you really want to do something, nothing can stop you. If you DON'T want to do something, ANYTHING can stop you
14:40 – You have to be aware of yourself and what you are in the mood for.
15:00 – It's NOT the muse… it's that when you can't write what's in front of you, you CAN write something else
15:40 – I use my Tumblr feed (http://bornofanatombomb.tumblr.com/) as a reference for ideas as they come
17:00 – PROMO: Save "City of Heroes" http://www.savecoh.com
18:35 – Can you describe the transition in your youth from uncertainty to boldness
19:50 – Two things happened… the ending of my involvement with 365tomorrows.com and the start of The Voice of Free Planet X podcast
20:05 – The former had me writing 78 stories in the first year and really toughened me to criticism
21:10 – I learned that people's opinions really have very little relevance to my work
23:10 – The latter focused my intent as a writer and allowed me to experiment (and a lot of vocal work)
24:25 – It allowed me to figure out what I enjoyed doing beyond what was marketable
26:00 – That was also the time my relationship began with my wife J. R. Blackwell
26:55 – Do you feel like your writing can be characterized and how important IS that to a writer?
27:10 – I've always said, "I write Westerns"
27:40 – The world is very small and at the same time very vast… a lot of my stories are like that
28:05 – I consider myself to be a writer of adventure
28:40 – I don't think genre is important until the 4th or 5th draft
28:50 – It's more important to know who you're writing for than the genre you're writing in
30:15 – Out of curiosity, why did you go with a female protagonist for "Battle of Blood and Ink"
30:20 – Partly because Steve wanted to draw a female protagonist
30:30 – I like female protagonists because there's a lot of stories with white guys
30:35 – I have a "Two White Guy Rule"
30:40 – You have your young white guy and your old white guy… what other perspective do you need?
31:40 – Part of it is marketing, being different from everything else
32:00 – The other part is creativity and what the story calls for