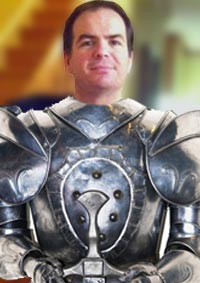 (Listen to John's Knighting Ceremony here…)
John Walker has been reading since he was two and writing for fun at the tender age of 10. He's been working in the dull drudgery of the real world for many years, getting through each day in the real world by the skin of his teeth.
However, there was always a world within him, struggling to get out, to make itself known to all who would but read.
It was only recently when he took his destiny into his own hands and wrung from the keys that very world, where gods and mortals are not as separated as we think, and one man must stand against them all. With his first published work, "The Sincerest Form of Flattery", John introduced us to private detective Tom Statford, a gumshoe who happens to work for, with, and sometimes against deities of yore.
However, one book wasn't enough, as he released "Parts of the Whole", fleshing out the world of Tom Statford through the eyes of those who know him best.
With his latest work, "In The Details", John needed a bit of help to bring out the story. With Dave Robison, Brion Humphrey and Myke Cole, John conjured up a story about the Devil, love, betrayal, and redemption the likes not seen outside the works of a very good bearded playwright.
It is with great humility that he accepts the Order of the Roundtable Podcast, and will always write the best he can to be deserving of such an honor.