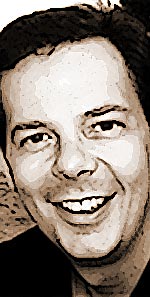 Showcase Episode: 20 Minutes with Jerry Gordon (airs November 16)
Workshop Episode: Workshop Episode 38 (Guest Host: Jerry Gordon)
Website/Blog: www.jerrygordon.net
Facebook Page: www.facebook.com/jerrygordon
Jerry Gordon is leading at least one life too many. As a full-time author, editor, college instructor, grad student, web programmer and new dad, he lacks the time to write a witty bio but assures you that if you keep drinking, he'll get funnier.
He's also the Bram Stoker nominated co-editor of the DARK FAITH anthologies. His recent fiction has appeared in APEX MAGAZINE, SHROUD, and THE MIDNIGHT DINER. His apocalyptic thriller, BREAKING THE WORLD, will be released through Apex Publications in 2013.
He lives in Indiana with his wife and son. When he's not changing diapers, you can find him blurring genre lines at www.jerrygordon.net.
Works to be aware of…
DARK FAITH INVOCATIONS: Find it at Apex Publications
DARK FAITH: Find it at Apex Publications
"Ghost In The Machine" in SHROUD Magazine, Issue 12
"City of Refuge" in THE BOOK OF APEX, VOL. 2

"9th Ward" in THE MIDNIGHT DINER
Favorites
Novels:
Henry V, Walden, Black Elk Speaks, I Am Legend, Fahrenheit 451, The Demolished Man, Lord of the Rings, The Prophet, Welcome To The Monkey House, Skeleton Crew, The Giver, The Road
Movies:
Midnight In Paris, Before Sunrise/Sunset, Wonder Boys, The Natural, Star Wars, Raiders of the Lost Ark, Snatch, Inception
TV:
West Wing, Studio 60, Sherlock, Dr. Who, Firefly, Mad Men, House, The League, Supernatural, Babylon 5
Music:
The Frames, Ani DiFranco, Hamell On Trial, Bob Dylan, Johnny Cash, The Beatles, The Rolling Stones, James Brown