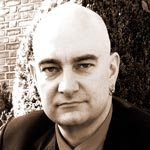 Lou Anders – editorial director at Pyr, the science fiction and fantasy imprint of Prometheus Books Publishing – has led a hero's journey through speculative fiction, from practically living on the sets of Star Trek and Babylon 5 to swinging Stormbringer in a parking lot with Michael Moorcock. We're delighted to share this 20(ish) minutes we had with Lou, discussing the reasons behind genre mashups, the nature of character in relation to plot, and more! So much writerly goodness awaits you behind that PLAY button… (and be sure to mark your calendars for Lou's Workshop Episode!)
PROMO: The Starship Sofa Podcast

Showcase Episode: 20 Minutes with Lou Anders
[caution: mature language – listener discretion is advised]
Podcast: Download (Duration: 37:43 — 25.9MB)
Check out this and all our episodes on iTunes and on Stitcher Radio!
Episode Breakdown
00:40 – Lou's awesome intro
06:20 – What was one of your best experiences with the authors you've worked with during your tenure at Pyre
06:55 – A lot of my authors are also my good friends
07:10 – I grew up reading Michael Moorcock
07:20 – I was eating dinner with him and he took me into the parking lot and hands me a perfect replica of Stormbringer
08:20 – I ran around the parking lot swing the sword around and around
09:15 – Once I got in this field, I realized the people I'm friends with now have been in my life all along
09:30 – I'm talking comics with J. Michael Strazinski and telling him about the best Two-Face story ever and he says, "Yeah, I wrote that"
10:05 – I got along with celebrities because I pretty much ignored them
10:25 – I was talking with Walter Koenig and I blew his mind by referencing his episode with Enik the gold sleestack
11:35 – How important is it for the lines to be clearly drawn for an audience between antagonist and protagonist
12:50 – Very important
12:55 – Stuart Copland of the Police went to Africa to study drumming from them. When asked how many people are gonna get that, he said, "None of them, but they'll like the music better even if they don't know why"
13:20 – It's not important for the reader to understand the mechanics of storytelling, but it's important the writer be aware of them
13:40 – I was taught screenwriting by Dan Decker who worked out a character-based approach to screenwriting
14:00 – There are three characters in any story: the protagonist, the antagonist, and the relationship character
14:10 – The relationship character is the one who holds the wisdom that the main character resists
16:20 – Dan would get flown out to LA by the major studios to teach their development executives what to look for
16:40 – In Dark Knight, Dent is the antagonist and The Joker is the relationship character
19:20 – PROMO: Starship Sofa Podcast
20:30 – Do you find yourself in a mentor position with your writers?
20:40 – With some of them… it's book by book and case by case
21:25 – I don't impose… it's their book. It's better for them to do it their way and be happy with it
21:40 – Have you ever had anything weird come across your desk from a writer who's trying to get your attention?
22:05 – In film you'll get that, but I really haven't
22:35 – For the most part it's an enormous number of "okay" efforts and you're looking for one or two gems in that
23:40 – People who are not versed in scifi write stories with the President, aliens, and a stripper
24:30 – Either that or its Celestine Prophecy stuff… ancient Mayan civilizations
24:45 – In YA, the issue is not letting the teen characters drive the story
25:40 – That and forgetting just how nasty children are
26:10 – With so many genre mash-ups, it seems like genre boundaries have become very fuzzy or even erased completely. Have you noticed that?
27:15 – We have a series of books called the Vampire Empire series and it's steampunk, vampire, alt history, epic fantasy, pulp fiction romance… with cats
27:45 – I think ordinarily you get into trouble with more than two hyphens… it's like juggling. Work up to it
28:40 – It's generational to a large degree, I think
29:55 – I feel like we're really open to whatever is out there
30:10 – If you're going to be writing in a genre, then you need to read that genre (from today's writers)
31:00 – What you surround yourself with is what comes out
33:05 – We have one of the smartest viewing audiences ever with 100 years to draw on