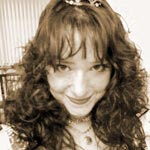 Alethea Kontis – author of "Enchanted" (recently listed on Kirkus Reviews among the "Best Teen Books of 2012"), the award-winning "Alpha-Oops" series, and so much more – is a passionate and informed storyteller. Her diverse background includes, among other things, a love and respect for the theater and of the rich heritage of folklore and fairy tales, both of which informs her work and infuses it with authenticity and magic. Justin Macumber (co-host and founder of the Dead Robots' Society podcast) joins me in a rousing 20(ish) minutes as Alethea waxes rhapsodic on the allure of fairy tales, who she writes for, her revision and editing process, and much more. The Fairy Queen is in the house people… woot! (and come back for more writerly goodness in Alethea's Workshop Episode)
PROMO: Protecting Project Pulp podcast (part of the District of Wonders Network)

Showcase Episode: 20 Minutes with Alethea Kontis
[caution: mature language – listener discretion is advised]
Podcast: Download (Duration: 35:17 — 24.2MB)
Check out this and all our episodes on iTunes and on Stitcher Radio!
Episode Breakdown
01:08 – Alethea's Fairy Tale Intro
07:20 – Why do you think the world has developed such an appetite for fairy tales lately?
08:10 – Everything goes in cycles. Vampires… they leave, they come back. Fairy tales… they leave they come back
08:20 – Every writing teacher is going to tell you to write what you love. Even if it's not popular now, by the time your craft has caught up with the zeitgeist, it'll be popular again
08:40 – Also, I think social networking is – in a way – virtually bringing back the oral tradition. Fairy tales were the blogs of Germany and the Dutch and the Italians of back then
09:30 – What do you think is your greatest asset as a writer, and what do you do to nurture it?
09:55 – My greatest strength is the performance side of the things
10:10 – The acting and the writing came together back when I was eighteen and made me who I am
10:20 – When I approach my writing, I'm thinking "What is my motivation" for this character?
10:35 – Every single character, I put myself in their head as though I was going to go on stage and play them as a character
10:40 – You have to really connect with those people before you start spouting words, but then when the words come, they're so natural because that's just who the character is
10:50 – Dialog has always been my strength, description has always been a challenge
11:20 – Someone said "Three sentences should be enough to describe anything"
11:35 – I think of poetry… or Twitter
11:45 – You need to do that to move the story along. If you dwell in the beauty of everything, everything gets lost in the forest
15:05 – However, I'm revising the sequel to "Enchanted" and I wish I had over written it so it would be easier to edit
15:15 – "Enchanted" was originally about 107K and it ended up about 74K… it is so easy to cut, than it is to cut and have to write 20K more words
15:50 – PROMO: Protecting Project Pulp podcast (part of the District of Wonders Network)

17:20 – What did you find in your first draft that you need to fix time and again?
17:55 – It was less of me finding it myself than it was the three-page edit letter from my editor
18:10 – It was really just me talking just to hear myself talk, and I needed to clear up things and make things simpler
18:25 – I also have a tendency to have a cast of thousands… I love to talk about people
18:5 – I have to make it logical, but I also have to have to keep it simple
19:00 – Ultimately it has to be a novel story about a girl and a boy falling in love, the end
19:15 – I can't get sidetracked
19:20 – What will you do differently with the third book in the series
19:30 – It really IS a learning process
19:35 – I was forced to blow through the zero-draft of "Hero" in about two or three months
19:45 – My goal is to make the third novel ("Beloved") my NaNoWriMo project
20:00 – That way I'll have a year to go back to it and look at it and stew about it
20:45 – Are you a believer of writing as a group activity?
21:30 – I think there are pros and cons to it
21:35 – I tried that with The Codex Writers
21:55 – Within that group, you learn which people are keeping your voice and which ones are trying to completely re-write your story as they would write it
22:15 – Recognizing that is difficult, as is accepting it and responding to it
22:25 – Mary Robinette Kowal is amazing at this… holding readings and posting her novel as she writes it, getting feedback as she goes
23:00 – I wish I could be at a place like that
23:10 – I think it IS valuable
23:35 – What are your personal favorites among some of the contemporary takes on fairy tales?
25:10 – I wrote an article for the Huffington Post that never made to press
25:55 – While writing the article it occurred to me that "Pan's Labyrinth" was a perfect retelling of "The Little Match Girl"
26:45 – The protagonist creates this entire to world to get away from a horrible world and in the end you're left to decide whether it was real of if she "died" by surrendering to the horror
27:15 – For Disney re-tellings, I have to give the award to "The Little Mermaid"
27:25 – I order to re-tell that story and make it a happy ending, they had to do some major work. I think they did an amazing job
27:55 – Do you write to a "person" or composite that you try to appeal to?
28:55 – Absolutely, I write for the 12-year old Alethea who was absolutely consumed by books
29:25 – When I'm writing and the words aren't coming, I think of sitting in front of my family and consider how I would tell the story to them