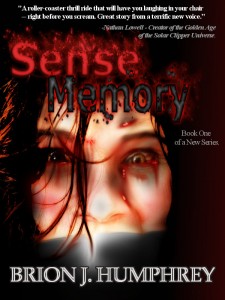 Well, to be more accurate, I finally paid attention to the incessant knocks, pings, and scratchings coming from the inside of the dusty drawer where I've been keeping it hidden for the last three years.  Upon sliding the drawer slowly open, standing back to avoid any arterial spray, and then hacking into the beast and sewing it back together into its current and beautifully monstrous form, it is now time to let it bleed out into the world and infect ebook reading devices and mp3 players everywhere!
Dear Literary Alchemists, Dave and I have been talking about writers and the craft long enough from the sidelines and with a competed novel collecting dust, I decided to brush it off and stop hoarding the ninty-eight thousand words, and get into the game. It has been getting increasingly difficult to keep telling all of you to GO WRITE!, without offering some evidence that I was following my own advice.   Hence, the release of Sense Memory.
Sense Memory is the story of Benjamin Cady, who, thrust into a search for his own sister's killer, flees Colorado and the only world he understands to scour the streets of Los Angeles, plagued by headaches and memories of murder. He quickly discovers that L.A. is not unknown to him, and as his memories of his sister's death become clearer, so does the possibility that Ben himself may be the murderer.
Lieutenant Jim Banquer has plenty of bodies, but every witness seems to be suffering from a mysterious form of amnesia. Investigating these deaths means he must piece together the scattered shards of a deadly power scheme that goes well beyond murder, and Ben is the key. 
Sense Memory is a psychological thriller that weaves an intricate web of doubt and intrigue as it goes, leaving no thread unstrung. A sure page-burner, this story will stay with you long after the smoke clears.  If I do say so myself!
The most exciting aspect of the process for me has been the revision process, which was a huge surprise.  I decided, with the advice and guidance of the most excellent Nathan Lowell, to record my book in audio to be hosted by Podiobooks.com as a way to broaden my audience base and make the book available to folks who would like to sample the book for free.  The actual act of reading the  entire novel aloud directly from the page more than two years after writing it opened me up to more lessons about my own writing than I ever could have imagined: from dealing with authenticity in characterizations, to the unimaginably repetitive overuse of single words, like "rivulets," (my wife is still rolling her eyes at that one) to discovering that my writing sounds really good when read out loud but translates to structures that cause readers near asphyxiation on the page.
I would never have paid as much attention to my writing during a revision had I not intended for the read to be available for a general audience to listen to as a performance.  And that, I think, made all the difference.
In any case, the ebook is now available on Amazon.com, and the free audio version should be finished and available within the next two weeks.  This is the moment where every writer put's their heart on the line and prays that it doesn't get burned or pelted with spitwads.  I can honestly, and finally, say that I know how it feels to be overcome with anxiety and anticipation for the aftermath of the release of my first book!  And damn, what a good feeling it is!
And I wish for you to have that feeling too!  So, Go Write!  And then, go read my book!  = )
Love to you all.    -Brion