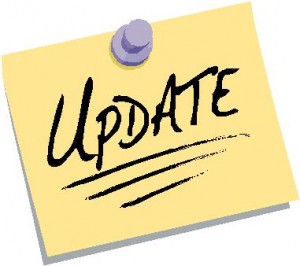 Before anyone asks, no, we aren't "back" (at least not in the classic sense). The Roundtable Podcast is still on an Indefinite Hiatus. My circumstances haven't changed… but I've decided to take the advice that so many of you have generously shared with me: I'm taking care of myself.
Conventionally, that advice entails "taking it easy", "getting lots of rest", "eating well", and other sensible courses of action. And I'm doing all those things… really! But that kind of convalescent lifestyle includes a lot of "quiet time", long tranquil hours where your brain is free to drift and ponder whatever errant thoughts may pique its interest.
You see the hazard that represents, right? Leaving me alone with my thoughts is like hiring an arsonist to watch over propane plant; something's gonna blow.
The Origin Story
The spark that lit the fuse was a great conversation I was having on Facebook (yes, they DO happen) with authors Colin F. Barnes and Stephen Godden. See, I type slow (a hunt-and-peck one-finger hold out) and was falling behind on the conversation. Okay… I was falling behind on the witty rejoinders and bombastic banter that is the hallmark of most of my discourse, but you get the idea.
I suggested we take it to Google Hangouts, but no one had a decent webcam. So that meant Skype. For many podcasters, it's difficult to log in to Skype without setting up the recording software and mics as well. Skype = Podcasting in my limited experience. So that got me thinking about how we could share this conversation. Did I have a means of sharing audio files filled with amazing insightful people in a dynamic exchange of ideas and inspirations? Hmmmm…
So I checked with Colin and Steve and they were cool with releasing it under the RTP banner. You may have noticed that I'm something of a "joiner" and, in my world, what's great with two is fabulous with four (I'd site the Law of Exponential Awesomeness but the last year of the RTP is evidence enough, I think). So I reached out to two people I knew would add fabulousity to the mix: Starla Hutchon and Alasdair Stuart.
They agreed to join in the fun and, with Brion at my side, we recorded a remarkable conversation on how difficult it is to write near-future scifi in a world where astonishing and fantastical discoveries are a part of every days newsfeed. We also threw in the (alleged) death of Cyberpunk (it seemed relevant) just to sweeten the discourse.
As anyone who has indulged in astonishing dialogs with remarkable people can attest, it's a drug… a sweet, mind-blowing, world-altering, consciousness-expanding drug with no hangover but profound side-effects on your heart and soul.
So…
Roundtable Dialogues
The Roundtable Dialogues is a way to share those amazing conversations with you. I can't promise any regularity in terms their frequency (and you KNOW that makes me crazy… I'm all about "reliability" in my podcasting, baby) but I CAN promise when they DO hit the feed, they'll be something special.
What can you expect? Well… I'm not really sure. I'm totally pants-ing this but here are my thoughts (and I'll welcome your ideas as well)…
One of the things that was driven home during the first "RTP Dialogues" conversation was that things are always changing and more rapidly and unpredictably than ever before. My own personal experiences have certainly affirmed that axiom and I know that anyone who hasn't been in a coma for the last few years can attest to ever-shifting terrain we're all trying to get our feet under.
So THAT'S what I'd like the Dialogues to address. What changes have altered the way we pursue our craft as writers/creators and what hazards and opportunities do those changes imply? What's new in our creative world, what's looming on the horizon, and how can we adapt to make sure our primary objective – the creation and sharing of fabulous stories – can not only sustain but flourish in that new world?
I'm pumped… and it's perfect. It doesn't require a lot planning, doesn't have a schedule that can be compromised, and fulfills our mandate here at the RTP: to explore and foster the storyteller's creative process in all its many forms.
So, with that framework in mind, what do YOU think we should dialogue about? We'd love to know what's keeping you up at night about this brave new world barreling down on us whether we want it to or not. No topic is off the table but let's agree to focus on speculative fiction with a preference (but not a requirement) for the storyteller's perspective on things.
A Personal Message
I have been overwhelmed by the compassion and support I've received from our listeners, writers, and hosts. Thank you all so very much for your kind words, your sympathy/empathy, and your incredible generosity of spirit.
I have been humbled to discover the depths of love and friendship embodied by the podcasting community and I can tell you, without bombast or rhetoric, it has become the firm ground beneath my feet and the solid wall at my back.
Thank you.