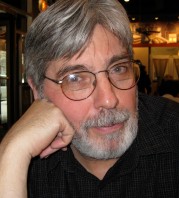 Larry Santoro has passed away.
Followers of the Roundtable will recall his splendid "20 Minutes With…" interview and hosting of Workshop Episode 37 . His many creative endeavors included hosting the "Tales to Terrify" podcast, where I got my first narration gig in the podosphere. I always felt a deep gratitude towards him for opening that door for me and, as I came to appreciate the scope and breadth of his achievements, my respect and admiration for him grew.
When I learned of his passing this morning, all I could think was how the world had become diminished, somehow smaller without him.
Knowing he was out there meant there was another champion of "the stories" at work in the world, an advocate for the spirit of creative exploration that enriches and brightens all our lives. He was a poet, an eloquent weaver of tales, and a gentleman in thought, word, and deed. I did not know him as well as I would have liked and will always regret that missed opportunity.
We all shine a light upon the world. Our contributions and engagements, no matter how small, illuminate the terrain, striking sparks of insight, inspiration, and hope. Larry cast a wide and subtle radiance for many of us and his passing has dimmed the light in the world a little.
Goodbye, Larry. In the final tally, I think you gave more than you got. You inspired wonder and nurtured delight in the hearts and minds of all who knew you. You will be missed .