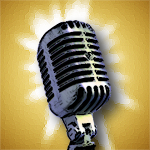 Cat Rambo, weaver of hundreds of lush story tapestries, returns to the Big Chair at the Roundtable to join co-host Moses Siregar ("Black God's War", and the 'Adventures in SciFi Publishing' and 'Hide and Create' podcasts) and myself, lending her storytelling mojo in the time-honored tradition of a good frothing brainstorm.
Seeding the thunder clouds of awesomeness is our Guest Writer, August Grappin. Gus brings a most intriguing coming-of-age tale fraught with oracles, fate, and destinies. As the episode unfolds, it becomes clear it's OUR fate to have a rollicking good time as we brainstorm our way through the tale, unearthing a veritable cornucopia of Literary Gold (and it is YOUR destiny to reap a bountiful harvest of writerly goodness by listening to Cat's Showcase Episode).
PROMO: "The Flashpulp Podcast"

Workshop Episode 59 (Guest Host: Cat Rambo)
[caution: mature language – listener discretion is advised]
Podcast: Download (Duration: 1:04:15 — 58.8MB)
Share your comments to this (or any) episode over at the RTP Forum!
Check out this and all our episodes on iTunes and on Stitcher Radio!
Cat has SO MUCH STUFF coming out…

The Awesomeness of A.F. ("Gus") Grappin…