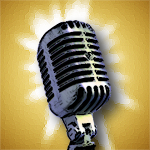 Tim Marquitz – Editorial Dark Lord (trans: Editor-in-Chief) at Ragnarok Publications and pen-wielder on many tales grim and heroic (including the Demon Squad Series, The Blood War Trilogy and more, returns to the Big Chair at the Roundtable to workshop – what else – a grimdark tale of  corrupted power and the horrific price that comes with it.
The tale of a doomed king and his wretched destiny is offered up by Rob Matheny, curator and evil genius at the Grimdark Fiction Readers & Writers Blog, and is a first short story to ever be workshopped at the Roundtable. With my co-host Moses Siregar (author of "The Black God's War") with me, we dive in to the shadowy world of awakened darkness and its appetite for destruction with both hands. In the end, the darkness is pushed aside by the pure auric radiance of Literary Gold! (and if you're still hungry, there's even more writerly goodness to be had a Tim's Showcase Episode).
PROMO: The Flash Pulp Podcast

Workshop Episode 62 (Guest Host: Tim Marquitz)
[caution: mature language – listener discretion is advised]
Podcast: Download (Duration: 1:14:19 — 68.0MB)
Share your comments to this (or any) episode over at the RTP Forum!
Check out this and all our episodes on iTunes and on Stitcher Radio!
Coming up for Tim…

Ragnarok has some fabulous fiction hitting the shelves including…
And check out Rob's Awesomeness…