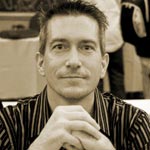 This week, I'm delighted to have Bradley Beaulieu (BOW-lee-er)(no, really) take the Big Chair at the Roundtable for 20-ish minutes of some stellar writerly discourse.
Brad is an author of sweeping epic fantasy, tales of rich authentic and intriguing characters told in lushly rendered story worlds. His works include: The Winds of Khalakovo, The Straits of Galahesh, The Flames of Shadam Khoreh,  as well as "Strata", a collaborative scifi tale with Stephen Gaskell. His stories have appeared in Orson Scott Card's Intergalactic Medicine Show, Beneath Ceaseless Skies, The Crimson Pact, and more. AND he's the co-host (with Greg Wilson) of SPECULATE, one of the podosphere's premiere podcasts on the writing craft.
Moses Siregar is my co-host for this splendid discussion with Brad as we explore the process of collaboration, Brad's worldbuilding mojo, dynamic vs iconic characters and more. Hit that PLAY button, sit back, and let the awesomeness flow into your brain  (and we leverage all that extensive experience and savvy in Brad's Workshop Episode!).
Showcase Episode: 20 Minutes with Bradley Beaulieu
[caution: mature language – listener discretion is advised]
Podcast: Download (Duration: 40:52 — 37.4MB)
We have a FORUM! Share your comments to this (or any) episode over at the RTP Forum!
Check out this and all our episodes on iTunes and on Stitcher Radio!
Brad is all OVER the place…
Moses, ever the font of writerly insights (as anyone who knows him will attest), references a vital resource at the end of the podcast: Writing Tools by Roy Peter Clark