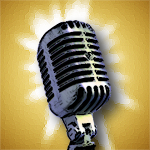 This week,  Janet Morris and Chris Morris – authors of  The Sacred Band of Stepsons series, "I, the Sun", and the Heroes in Hell series, and so much more – return to the Big Chairs at the Roundtable to infuse our story brainstorming with their incredible writing mojo. Joined by my co-host, the eloquent and insightful Michael R. Underwood ( "The Younger Gods", "Shield and Crocus", "Geekomancy" and more), this can only be described as a Master Class Story Workshop.
Our "creageous" Guest Writer (both creative AND courageous) for this episode is Melissa L. Hayden, curator and evil genius at the "My World in Words and Pages" blog. Melissa brings a tale of patricide and political upheaval in a land of dragons and ancient magic… a veritable buffet of story goodness. As the workshop unfolds, Janet, Chris, and Michael explore unexpected and startling paths of insight and inquiry, teasing out some potent thematic, character, and story elements.
To say that Literary Gold abounds would be an understatement… this is one of the finest literary workshops in which I've had the pleasure of participating. Click the "Play" button, sit back, and let the muse inspire you. (and if you haven't tuned in to Janet and Chris's Showcase Episode, then that's you're next stop for writerly awesomeness).
PROMO:  "Glow-In-The-Dark Radio" featuring Mike Luoma
Workshop Episode 65 (Guest Hosts: Janet and Chris Morris)
[caution: mature language – listener discretion is advised]
Podcast: Download (Duration: 1:11:17 — 65.3MB)
Share your comments to this (or any) episode over at the RTP Forum!
Check out this and all our episodes on iTunes and on Stitcher Radio!
Donning the Robes of Prophecy for Janet and Chris…

Check out the newly released "The Sacred Band" audio book (narrated By Chris Morris)
"I, the Sun" is next on the docket
The next Heroes in Hell anthology
A brand new anthology… "Heroica: Dragoneaters"
A new novel  based on Rhesos of Thrace
Another Sacred Band book is in the works as well as a sequel to "Outpassage"
Friend them on Facebook, follow both Janet and Chris on Twitter, peruse their achievements at Janet and Chris's Wikipedia pages
You can also catch Chris's marvelous music on Soundcloud
AND you can catch live performances and their full presentation of "Social Reconstruction Through Heroic Fiction" at the Library of Congress on YouTube
Michael's Upcoming Fabulousity…
Keep up to date with Melissa…