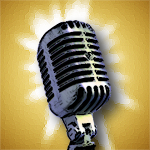 Karen Healey – educator, advocate, and author of astonishing YA novels like "When We Wake" and the newly-released sequel "While We Run" – returns to the Big Chair at the Roundtable to catalyze our brainstorming efforts into a maelstrom of awesomeness with her storytelling mojo (spoilers: she succeeds). Joined by the eloquent and insightful Katie Bryski (author of Hapax, numerous short tales, AND a children's opera), the stage is set for a fabulous story workshop.
This week's Guest Writer, Emery Colin, brings a very cool tale to the table, one that blends SciFi and Fantasy with a mysterious mythic heritage. A stranded transport, ancient orders, demons, and an inexperienced protagonist assigned a perilous task are the ingredients for a brainstorming buffet that leads us inevitably to discover a lost relic forged of – you guessed it – Literary Gold (and if your thirst for writerly goodness remains unslaked, then I recommend you check out Karen's Showcase Episode!).
PROMO:  "DanDan The Art Man Book Reviews"
Workshop Episode 66 (Guest Host: Karen Healey)
[caution: mature language – listener discretion is advised]
Podcast: Download (Duration: 1:08:28 — 62.7MB)
Share your comments to this (or any) episode over at the RTP Forum!
Check out this and all our episodes on iTunes and on Stitcher Radio!
Coming up for Karen…

 Stay up on Katie Bryski's latest…
Katie also wanted to share that "Tales of a Tesla Ranger: A Tribute to P. G. Holyfield" is now available on Amazon. P. G. was one of the first podcasters, a pioneering author, and remarkable human being. He passed away from a brutally swift form of cancer earlier this year and the writing community rallied to create this astonishing tribute. Every penny earned from the sale of this marvelous anthology goes to the trust established for P. G.'s children. Please consider adding this to your library and supporting a bold spirit who taken from us far too soon.