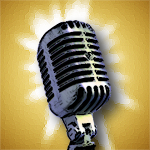 David Annandale – professor of fiction, film and horror, and author of tales of terror and dark mayhem – returns to the Big Chair at the Roundtable to help us workshop of  hellish  trials and virtual damnation.
The tale is offered up by writer/podcaster Jim Ryan whose story of a nefarious software developer trapped in his own virtual construct of hell sets our creative fires ablaze! Joined by co-host, Jennifer Melzer (author and editor of fabulous tales), we embark on a journey through the treacherous paths of this fabulous concept worthy of Dante himself. Fortunately, the paths are strewn with Literary Gold and we fill our pockets every step of the way. You can can, too… just hit that PLAY button (and, if you haven't heard it yet, jump into the Wayback machine and check out David's superb Showcase Episode too!).
PROMO: "Far Lost" by John Meirau at Serving Worlds.com

Workshop Episode 63 (Guest Host: David Annandale)
[caution: mature language – listener discretion is advised]
Podcast: Download (Duration: 1:06:48 — 61.2MB)
Share your comments to this (or any) episode over at the RTP Forum!
Check out this and all our episodes on iTunes and on Stitcher Radio!
Before and after for David…
(more…)