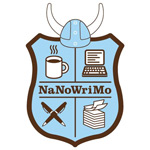 And around the world, a great sigh of relief went up among the writers. Some sighs were followed by cheers as the words were tallied and it was revealed that the sacred count of 50,000 been reached. But whatever their word count, the writers knew they had achieved something… they had made a commitment to their story and themselves that can't be measured in mere words.
It has been a remarkable journey these last 30 days as we followed these writers through their unique challenges of NaNoWriMo. As each of them shared their strategies and experiences, we all gleaned a wealth of insight into what it takes to reach the 50K goal. And now, with NaNoWriMo complete, we reach out to them one more time to learn how they did and what comes next.
If you're just joining us, check out our initial interview and workshop and Halfway Followup with all four creageous (creative and courageous) members of our NaNoWriMo Team:
The NaNoWriMo Project – The Wrap Up!
Podcast: Download (Duration: 1:06:25 — 45.6MB)
Check out this and all our episodes on iTunes and on Stitcher Radio!
Meet the remarkable people featured on this podcast… (more…)