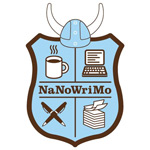 Sounds like a Bon Jovi song, doesn't it? Ooooo, we're halfway there… 0000OOO, livin' on a prayer! But these four NaNoWriMo-ers aren't relying on prayers to reach that exalted finish line of 50,000 words (although we're certainly prayin', cheerin', and rootin' for them). With only a couple weeks left, they're applying every ounce of discipline and dedication to reach their goal.
And the challenges before them are not insignificant. Real life doesn't take a holiday for NaNoWriMo, and that includes day jobs, academic responsibilities (tests?!), professional responsibilities, extracurricular commitments, family duties, health issues, and technical difficulties! And don't forget holidays (Thanksgiving isn't canceled, after all) ! This is an epic journey for our writing team and we spoke to each of them (briefly) to see how they're doing, find out what they've learned so far, and hear their plans for these last two weeks.
If you're just joining us, check out our initial interview and workshop with all four creageous (creative and courageous) members of our NaNoWriMo Team:
The NaNoWriMo Project – Halfway There
Podcast: Download (Duration: 1:00:49 — 41.8MB)
Check out this and all our episodes on iTunes and on Stitcher Radio!
Meet the remarkable people featured on this podcast… (more…)