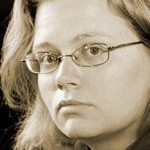 Seanan McGuire – author, musician, poet, artist, essayist, (I could go on but there's only so many pixels on the screen) – is an amazing person to speak with. It's the conversational equivalent of speaking to the genetic fusion of Jane Austen, Ernest Hemingway, and HP Lovecraft while drinking from a fire hose and holding live electrical wires. She is an astonishing and intense storyteller, versed in all mediums of the craft, and incredibly forth coming on any topic you care to throw at her. We tossed a few in and she gave us back gold… lots of it. (and you'll definitely want to tune in to Seanan's Workshop Episode! )
PROMO: "Haywire" by Justin Macumber
Showcase Episode: 20 Minutes with Seanan McGuire
[caution: mature language – listener discretion is advised]
Podcast: Download (Duration: 30:37 — 28.0MB)
Listen to this episode on iTunes
Episode Breakdown
00:50 – Seanan's Awesomeness
03:50 – Your work is so diverse and each creation in it is an intensely focused work… is there something you're trying to accomplish?
04:25 – Every book I write forces me to get better
04:50 – There were books that I wasn't good enough to write until I wrote the six books I wrote before it
05:00 – There are books I want to write that I'm not ready to write yet
05:30 – I also need to feed my cats
06:25 – I have one tragic affliction that I think in series
06:45 – If I slow down, I'm not going to finish my series before I die
07:30 – How do you keep characters from going stale in a series?
08:00 – A lot of it is that you can't give your character everything they want
08:30 – Make a complex enough character and you won't have to worry for a while
08:35 – Minor characters can get stale and that's why God gave us C-4
09:30 – Also, some characters are not here to sustain a 10-book series
10:25 – What is the book you want to write?
10:35 – I'm generally writing the book I want to write (in 3 or 4 separate genres at a time)
10:40 – Usually the book I want to write is the sequel to the one I'm currently writing
11:00 – How do you determine whether or not a character's need is enough to sustain the story?
11:40 – The initial "want" doesn't need to be the full on propulsion.  It can just serve to move the character to the real motivation.
12:15 – Also, go with wants that are environmental (like a social worker)
13:00 – A great way to figure out what a character wants is "free writing"
13:20 – Helps you learn your character and learn how they react to things
13:45 – PROMO: "Haywire" by Justin Macumber
15:45 – What advice do you have for authors contemplating pseudonyms?
16:40 – I never made any secret that I'm my pseudonym and my pseudonym is me
17:00 – Some people still confuse it, and that fact affirms the correctness of the choice
18:45 – Find a name that you can sign
19:00 – Also, make sure you choose a name where you can secure the dot-com.
19:15 – What resource do you use for your fairy research and how do you choose which pieces you'll bring into the story and when do you go "off book"?
19:55 – There is so much mythology that if you try to kitchen sink it all, you would explode
20:20 – Resources depend on where you want to focus
20:35 – In the Toby Daye series, I made the conscious decision to use settings that would work with the Celtic folklore of the British isles and the fairy folk lore of Western Europe
22:00 – Katherine Briggs wrote some of the seminal works for the Celtic/Germanic mythology and folklore
23:10 – Incrypted is limited by the ability to explain with pseudo-science
25:35 – What is it about Urban Fantasy that captures your attention?
26:05 – I studied fairy tales
26:15 – Fairy tales are urban fantasy that has aged out
27:00 – So I am writing fairy tales… they're just new