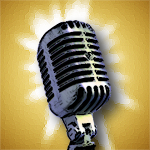 Bryan Thomas Schmidt – author of the Davi Rhii series, editor of and contributor to anthologies, and SpecFic explorer – returns to the Big Chair at the Roundtable to help workshop a very cool post-apocalyptic tale offered up by Guest Writer Jason Ramsey.
While this was – by far – the weirdest episode we've ever recorded (between the wrath of the Internet Gods and an inadvertent road-trip starting in the middle of the episode), Jason's core framework serves as a launching point for some really stellar explorations and insights into character, genre and theme. Writerly goodness and LOTS of Literary Gold for all! (and once you catch your breath, definitely make the scene at Bryan's Showcase Episode!)
PROMO: The Fullcast Podcast (with Bryan Lincoln and Abigail Hilton)
Workshop Episode 40 (Guest Host: Bryan Thomas Schmidt)
[caution: mature language and themes – listener discretion is advised]
Podcast: Download (Duration: 1:16:53 — 52.8MB)
Check out this and all our episodes on iTunes and on Stitcher Radio!
Coming up for B. T. Schmidt…
"Beyond the Sun" coming out in July from Fairwood Press
A military fantasy with Jennifer Brozek
A spec noire as well as a 'First Excounters' (from an other world perspective) project with John Helfers
Also finishing "Exodus" (book 3 of the Davi Rhii series)
"Dune Man: (Bk 1 of Dawning Age Epic Fantasy) in the works
and also "Abraham Lincoln: Dinosaur Hunter"
Plus #SFFWC every Wed 9pm EST live on Twitter (preparing to launch a podcast coming in Jan 2013)
Conventions…
… and from Jason: