[NOTE: The Roundtable is still on Indefinite Hiatus. Content – like these Dialogues – will be released into the feed as time and circumstances allow. Thanks for your patience and understanding]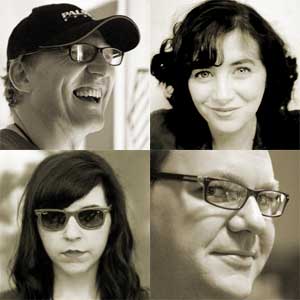 The world of storytelling is changing. There are new ideas, new technologies, new ways to tell your story and get it into the hands of your readers. For anyone with a passion for storytelling, it's time to look beyond convention and start exploring the opportunities these innovations provide.
One of the most intriguing formats that has permeated nearly every corner of our awareness is Transmedia Storytelling. By implementing diverse content threads across multiple media platforms, storytellers are able to transcend the limitations of printed word and provide their audiences with a richer, more engaging story experience.
Joining me for this transformative dialog is a cast of Transmedia luminaries, each with years of diverse experience in developing these unique storytelling experiences: Amanda Havard, Andrea Phillips, J. C. Hutchins, and Robert Pratten. I was also most fortunate to have Matthew Wayne Selznick agree to join me as co-host and bring his experience and insight to the table.
My gratitude for these remarkable individuals making the time for this discussion is exceeded only by my delight and the discussion they generated. When you gather this many articulate innovators on to one Skype line, you KNOW it's going to be a perception-altering experience.
So sit back, buckle up, and hit that "Play" button!
The Roundtable Dialogues #2: Transmedia Storytelling
[caution: mature language – listener discretion is advised]
Podcast: Download (Duration: 1:06:46 — 45.8MB)
Check out this and all our episodes on iTunes and on Stitcher Radio!
Co-Host Matthew Wayne Selznick on the web
Robert Pratten on the Web:
Andrea Phillips on the Web:
J. C. Hutchins on the web:
Amanda Havard on the Web: