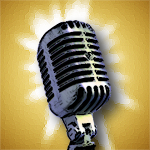 Author and writerly guru, Delilah S. Dawson – author of the Blud Series, featuring Wicked as They Come, Wicked as She Wants, and Wicked After Midnight and her latest work, a YA tale titled Servants of the Storm, as well as being the instructor for a fabulous Worldbuilding Workshop at LitReactor (firing up Sept 10), returns to the Big Chair at the Roundtable to lend her writerly mojo to our brainstorming efforts.
My splendid co-host, Starla Huchton, and I are joined by creageous Guest Writer Karey Bunch who brings a tale of monsters hiding in plain sight, a monster squad assigned to dealing with them, and a young woman who gets swept up in all the adventure. The story sparks a froth of discussion as we weave our way through a catacomb of possibilities, unearthing some glittering fragments of Literary Gold along the way. (and check out Delilah's Showcase Episode for even more explorations into the dark arts of writerly mojo).
PROMO: "Glow-In-The-Dark Radio" featuring Mike Luoma

Workshop Episode 61 (Guest Host: Delilah S. Dawson)
[caution: mature language – listener discretion is advised]
Podcast: Download (Duration: 57:02 — 52.2MB)
Share your comments to this (or any) episode over at the RTP Forum!
Check out this and all our episodes on iTunes and on Stitcher Radio!
Coming up for Delilah…

Starla is bringing all kinds of awesomeness…
Karey can be found at…