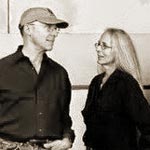 When you sit down to talk with Janet Morris and Chris Morris, be prepared for a conversation unlike any you've had before. The scope and breadth of their experience spans fiction and non-fiction, government policy, music, history, horse breeding, and more. They are storytellers who breathe eloquent passion and authenticity into their tales, illuminating the shadowed corners of mythic grandeur through their craft.
Their fiction work includes The Sacred Band of Stepsons series, "I, the Sun", and editing and contributing to the Heroes in Hell series (which includes tales from the luminaries of genre fiction), and so much more (even their Wikipedia pages include a "select fiction biography"). With such a vast tapestry of tales woven between them, you know this is going to be a conversation fraught with writerly delights.
With Michael R. Underwood (author of "The Younger Gods", "Shield and Crocus", "Geekomancy" and more, co-host at the fabulous Skiffy and Fanty Podcast, and Guest Host on the RTP) as my co-host, we engage in (way more than) 20 minutes of astonishing discourse, exploring the symmetry between music and story, the resonance of the craft of fiction and non-fiction writing, and how to "ascend from the pit of self-doubt into the light of self-knowledge and mastery". Yeah… you don't want to miss this one, gang. (and you know Janet and Chris's Workshop Episode is an epic event!).
Showcase Episode: 20 Minutes with Janet and Chris Morris
[caution: mature language – listener discretion is advised]
Podcast: Download (Duration: 51:38 — 47.3MB)
We have a FORUM! Share your comments to this (or any) episode over at the RTP Forum!
Check out this and all our episodes on iTunes and on Stitcher Radio!
Janet and Chris in the world…
Michael's Internet Arena of Awesomeness continues to expand…