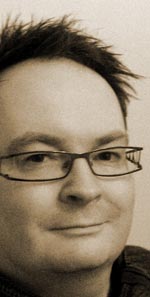 Showcase Episode: 20 Minutes with Lee Harris
Workshop Episode: Workshop Episode 12 (Guest Host: Lee Harris)
Website/Blog: www.angryrobotbooks.com
Facebook Page: http://www.facebook.com/angryrobotbooks
Lee Harris is the editor with Angry Robot Books. A science fiction and fantasy publisher, based in the UK, but publishing worldwide, Angry Robot titles have won many awards, including the Arthur C Clarke Award for Best Science Fiction Novel in 2011.
Lee also founded Hub Magazine – a monthly short fiction dead tree zine, which became a weekly online publication before half-collapsing at around issue 150.
He loves mince pies, but hates dried fruit, and no, he doesn't understand that, either.
Works to be aware of…
Absolutely everything at The Robot Trading Company
Favorites
Novels:
1984 (Orwell), The HitchHikers Guide to the Galaxy (Adams), Night Watch (Pratchett), The Grin of the Dark (Campbell), The Player of Games (Banks), the Felix Castor series (Carey)
Non-Fiction:
The Year of the King (Sher), Michael Palin Diaries, Untold Stories (Bennett)
Comics:
Watchmen
BatWoman (current run)
Anything by Gail Simone
Knight and Squire (Cornell)
Swamp Thing
Animal Man
Daredevil
Captain America (Brubaker run)
Movies:
Daredevil (no, really)
Alien
The Orphanage
Let The Right One In
Ptang-Yang-Kipperbang
TV:
The West Wing
Veronica Mars
Farscape
Doctor Who
Rome
Deadwood
How I Met Your Mother
Weeds
Quote
"Most editors are failed writers, but so are most writers."– TS Eliot