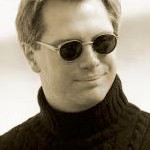 Christof Laputka is a fascinating individual. He's the creator and executive producer of "The Leviathan Chronicles" – a tour de force of podcast fiction production rich with original music, mind-blowing sound effects, exceptional performances, and a riveting storyline.   That's pretty awesome in and of itself, but what distinguishes him is his genuine delight and passion for what he does. For him, each episode is an exploration, a voyage of discovery in search of new ways to expand and enhance the storytelling experience. That delight is infectious and we enjoyed or 20(ish) minutes with him as he shared volumes about his experiences and insights into the craft.  (and you'll want to make the scene at  Christof's Workshop Episode!)
PROMO: "The Hidden Institute" by Brand Gamblin
Showcase Episode: 20 Minutes with Cristof Laputka
[caution: mature language – listener discretion is advised]
Podcast: Download (Duration: 33:31 — 30.7MB)
Listen to this episode on iTunes
Episode Breakdown
00:50 – Cristof's Heroic Intro
05:10 – Where does the excitement for what you do come from?
06:15 – Healthy and staggering amount of ignorance
06:55 – I heard podcasts and wondered why no one was using music or sound effects
07:10 – I'm excited by wondering what we can do to make it explode in your ears
08:05 – The first four episodes were an experiment. We listened and decided it was really f-ing good
08:30 – We have an outline but we have no idea how an episode is going to sound
08:55 – I write Leviathan as a screenplay not a novel and I know I'm writing for the ear
09:20 – We keep the pace going quicker
09:45 – If it weren't for Podcasting, would the Leviathan Chronicles ever existed?
10:00 – Probably not. I was really working to get "The Underwear Incident" traditionally published
10:55 – Now, I will be podcasting that book, too (very different kind of story)
11:10 – How do keep the balance between dialog and conveying information?
12:00 – We cheat… we have a narrator
12:10 – I'd rather break the fourth wall and give you a narrator but make the dialog more realistic
12:25 – That's harder with audio drama because they have to describe things
13:00 – You need to know what you're writing for
13:10 – In the beginning I was writing Leviathan more like a novel
13:20 – That's changed, now I want it to me more visceral
13:30 – If you released Leviathn as an e-book would there be a massive re-write?
13:45 – It would be very different, more economical in dialog and expansive in narration
14:10 – Some scenes just don't play (like the motorcycle chase scene)
14:55 – You have so many tools – music, sound, dialog, etc – but when you're writing you only have the words on the paper
15:20 – PROMO – "Hidden Institute" by Brand Gamblin
16:25 – How do you know when a scene is slow and needs better pacing?
17:20 – When I finish a chapter or episode, I read it out loud and record all the voices (skeleton draft)
18:00 – This lets the engineers start laying in sound effects and music while we gather actors and record dialog
18:20 – You can definitely hear it when you read it out loud
18:50 – Do you use a formatted script template?
19:00 – Not really… a page generally runs about 90 seconds so a 30-page script runs about 45 minutes
19:50 – Do you write for an episode or do you write and split it out later?
20:00 – I write for an episode, I want to start with a bang and leave with a cliffhanger or resolution
20:15 – I need to know where everything starts and ends
21:00 – Do you find that you have an episode that feels formulaic?
21:30 – Sometimes I become aware of using tricks we've used before and I want to keep it fresh
22:00 – If I become aware of that, I make sure to change it up
22:15 – If production is going too quickly, it means we're using the same effects and that's a flag, too
22:45 – Do you direct the episodes as well?
22:50 – Depends on what you call "direct". Nobi Nakanishi is the director of Leviathan and is responsible for all the actor performances
23:00 – I'm more the executive producer directing the sound process
23:30 – Working with actors is a very different skill set
23:40 – He uses motivation and emotional cues, I'd be like "say it faster, say it slower"
24:35 – Have you ever encountered an actors performance that made you as a writer take a character in a different direction?
25:05 – Some yes, some no.
25:15 – I hear Samantha's voice for the narration now
25:30 – There was an actor that didn't initially fit my vision, but his performance changed my mind.
25:55 – Between actors and sound effects and music, there are a LOT of transformations
26:15 – I have modified my writing to accommodate actors strengths
26:35 – What are you working on now in your craft?
27:00 – I'm trying to fight against cliches (especially the action scenes)
27:25 – Also trying to make sure the narration doesn't overwhelm certain scenes
27:35 – I want the action to be quicker paced
27:45 – I want characters to be seen multi-dimensionally
28:30 – I know we did things well in season one and somethings we could have done better
28:55 – When we release season two, it will be podcast for free, but…
29:05 – We'll also offer the complete season for sale with 5 additional hours of content
29:10 – AND we're releasing a director's cut of Season One